Vortex Racing DDS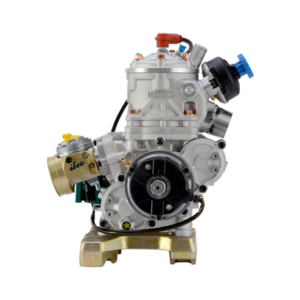 DDS. These are the initials that Vortex chose to took up the challenge launched by the International Federation, with the presentation of new categories, OK and OKJ. So Vortex began, with usual passion, the creation of a totally new project, in which creativity and innovation are indispensable weapons.
| | |
| --- | --- |
| DISPLACEMENT | 125 ccm |
| MAX TORQUE | 16'000 RPM |
The main changes in the past regulations have highlighted the qualities of each Vortex department. With the DDS project the company has invested in its best resources, human and technical, and the result was thrilling. The DDS engine puts together the different specifications of the precedent engine, on the one hand it keeps the 125 cc displacement, as for the engines of the last decade. On the other, it has introduced again the direct drive, as in the 90's, the years of the first World Cup triumphs.
In the technical package there are other important components such as the decompression valve, the exhaust valve, the 24mm carburettor and the rev limiter at 16,000 RPM.
DDS, with its compact and finely crafted carters, confirmed its fast acceleration since the debut on the track, in the international challenges of the OK class, proving to be performing and reliable. A point of reference for everybody.
Cooling System
Liquid-cooled through external pump
Exhaust
Oval exhaust and 2 boosters
Bearings
Radial bearing C4
Bore and stroke
54×54,29 mm
Max Torque
16.000 Rpm limited
Accensione
Push-to-start system with decompression valve
Carburettor
N.
Silencer
N.
Exhaust
Optional Cik-Fia T18SR
Reed valve intake in the crankcase
Push-to-start system with decompression valve
Mixture-lubricated
Cast iron CNC made cylinder
5/5 transfer ducts intake
Piston ring L type
Balance shaft
Comments