Vortex Racing RKZ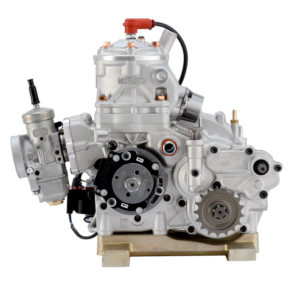 Vortex never lost the charm of the challenge with the powerful engines equipped with gearbox, actually since the nineties it has been manufacturing engines for this category.
Each Vortex engine with the gearbox was born according to the guidelines of the business philosophy, pursuing: innovation, refined processing and high quality for any single component. The result of this multi-annual work took to the outstanding RKZ model, an engine considered with admiration and respect in the category with the gear.
The RKZ is the direct descendant of the World Champion engine 2014, the RVZ, however it owns manufacturing features of the project and has quickly been able to attract international attention by winning, in the season of its debut, countless international titles.
Cooling System
External pump liquid-cooled system
Exhaust
Oval exhaust with 2 boosters
Bearings
C4 radial-bearings
Bore-stroke
54×54,29 mm
Ignition
PVL analogical Ignition
Carburettor
Dell'orto VHSH Ø30mm CS
Silencer
N.
Fuel Pump
Dell'Orto
Exhaust
Homologated Vortex 5/M/21
Intake reed valve in the crankcase
Number of transfer ducts: 5/3
Mixture lubricated (with Petronas Rok Lube)
Cast iron CNC made cylinder
Front clutch gear shift
Dry clutch
Ring with special coating
Comments